Sandalwood Rose– 12.5 oz Soy Candle
Large Candle
SCENT:
New York meets Los Angeles. Cashmere rose, oud, and sandalwood.

If you like Sandalwood Rose, we think you'd also like floral Sunbloom or woody Moonrise.
Fragrance Family
Scent Throw
ⓘ
How strong is it?
Great For
Big rooms, spaces with high ceilings, and those who want a stronger scent throw.
Our 12.5 oz Large Candles are hand-poured into apothecary-inspired amber jars with our signature kraft label and a brass lid. Meant for big rooms, spaces with high ceilings, and those who want a longer burn time.

Burns for 60-70 hours. 3.6" in diameter and 3.75" in height.
P.F. scents are meant to enhance a space rather than overpower it, and are especially ideal for people with scent sensitivities. If you prefer a stronger scent throw, we suggest pairing your candle with another product from our line - use Incense or Linen & Room Sprays to quickly fragrance your space, or place a Reed Diffuser in the room for low-maintenance scent throw all day long.
Following Candle Care helps to ensure product quality + longevity. We highly recommend following each of the following steps:
Trim your candle's wick to 1/4" before each lighting or once your candle has cooled.
Never attempt to trim a burning candle.
Discard the snipped portion in the trash; never leave wick trimmings in your candle jar.
The wick should always remain centered and away from the sides of the vessel.
Allow the wax to melt to the edges of the jar during each burn to prevent tunneling.
Once the candle's gone, we hope you'll re-use it. Clean it out and you've got a new planter or pencil holder – or whatever you want! Click here for tips on reusing your empties.
Safety first - because candles contain a small flame, we encourage following these common sense rules of thumb:
Never leave a candle burning unattended, near a draft, or in reach of children or pets.
Don't burn your candle for more than 4 hours at a time.
Do not allow your wick to curl over, as this can create a larger than normal flame.
Stop burning your candle when only 1/4" of wax remains.
Do not pick up a burning candle or immediately after it's been blown out.
Protect the surface underneath the candle no matter the material.
Our candles are simple: they're all made with 100% domestically-grown soy wax, fine fragrance oils, and cotton-core wicks. The fragrances we use are paraben-free, phthalate-free, and are never (ever) tested on animals.
Enjoy FREE SHIPPING on all orders within the contiguous U.S. - and Afterpay is now available for all orders $50+!
$8 flat rate shipping available for orders shipping to AK / HI / PR.
We currently offer international shipping to Canada only. Shipping rates are calculated by weight + delivery destination.
Read more about our Shipping process here.
HOLIDAY SHIPPING
Place your order by the following dates to ensure on time arrival ahead of the holidays:
Canada
: Friday, 12/10 by 12pm PST
Domestic US Shipping:
East Coast: Monday, 12/13 by 12pm PST
West Coast: Thursday, 12/16 by 12pm PST
Express / 2-day: Friday, 12/17 by 12pm PST
PROCESSING
All orders are processed + shipped within 3-5 business days. Please allow for additional processing time around major sales or during holidays.
More information here.
EXCHANGES + RETURNS
If you're not 100% satisfied with one of your P.F. Candle Co. products, we would love to help make that right! Please contact our Customer Care team at hello@pfcandleco.com within 30 days of receiving your order and we'll help get the process started.
More information here.
Customer Reviews
Write a Review
Ask a Question
11/24/2021
Anonymous

United States
Like it!!
Very calm and warm smell!
Lovely, subtle, charming
This is one of my most favorite scents for overall charming atmosphere. Subtle and warm, not overpowering-
Disappeared !
Sandalwood Rose is my favorite candle for so many years, started from small jar now advanced to the large one, it came to my surprise that after the first half of the jar the scent was disappeared .... I still love your products and continue to be your customer ... but please do quality check since there are quite a few negative note before mine.
Soft pretty scent
This is my favorite PF Candle Co scent so far. Some reviewers mention that they cannot smell this scent at all. I'm glad I still took a chance on it. It's true... the scent seems kind of faint when you're sitting in the room with it. But if you leave the room and come back, you will definitely notice it. I like that it's not overpowering. I wish I could wear this scent all of the time. I love it!
Solid Scent
Not a big fan of rose but I liked it and so did my family
New favorite!
LOVE this candle! My new favorite.
Please make the scent throw stronger!
I had this candle in the standard size a couple of years ago and fell in love with it. It's my absolute favorite smell. But I feel like something must have happened between now and then, the scent throw now seems SO much weaker - I bought the large size this time and literally cannot smell it when I'm sitting two feet away. In fact I can't smell it unless I am literally standing with my face 10 inches above the flame. I understand wanting a more "intimate" scent experience, but there has to be a balance - and at this point it's so faint I feel like I'm just getting ripped off.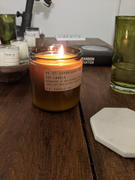 Favorite smell
I can't get enough of this candle. I'm going to buy the large one next because it's just so good. In my living room about 200sq ft I can smell it fine when burning. I do keep this on my coffee table where my couch is close and can get the most smells. I want to try all of PF's flavors, but this might always be in my cart when going for new candles