Moonrise– 10 oz Soy Candle
Sunset Candle
SCENT:
12am. Heatwaves, late-night crowds, the lure of the dance floor melding smoke and strange perfumes. Balmy, ambiguous, free. Yuzu, Indian jasmine, and smoked cedarwood.

If you like Moonrise, we think you'd also like creamy Patchouli Sweetgrass or woody Teakwood & Tobacco.
Fragrance Family
Scent Throw
ⓘ
How strong is it?
Great For
Basically everywhere!
Sunset candles are poured into custom-printed tin vessels donned with earth-toned motifs, sun shapes, and horizon lines inspired by California scenery. Available in four nostalgic scents meant to represent times of day + the feelings they spark within us.

Our 10 oz Sunset Candles are meant for small to medium-sized spaces like dens, bathrooms, and offices, and are best enjoyed on a dresser, counter, or coffee table. Burns for 50-60 hours. 3" in diameter and 4.375" in height.
Following Candle Care helps to ensure product quality + longevity. We highly recommend following each of the following steps:
Trim your candle's wick to 1/4" before each lighting or once your candle has cooled.
Never attempt to trim a burning candle.
Discard the snipped portion in the trash; never leave wick trimmings in your candle jar.
The wick should always remain centered and away from the sides of the vessel.
Allow the wax to melt to the edges of the jar during each burn to prevent tunneling.
Once the candle's gone, we hope you'll re-use it. Clean it out and you've got a new planter or pencil holder – or whatever you want! Click here for tips on reusing your empties.
Safety first - because candles contain a small flame, we encourage following these common sense rules of thumb:
Never leave a candle burning unattended, near a draft, or in reach of children or pets.
Don't burn your candle for more than 4 hours at a time.
Do not allow your wick to curl over, as this can create a larger than normal flame.
Stop burning your candle when only 1/4" of wax remains.
Do not pick up a burning candle or immediately after it's been blown out.
Protect the surface underneath the candle no matter the material.
Sunset candles are simple: they're all made with 100% domestically-grown soy wax, fine fragrance oils, and cotton-core wicks. Our fragrance blends are made of both natural and man-made ingredients, and are paraben-free, phthalate-free, and are never (ever) tested on animals.
Enjoy FREE SHIPPING on all orders within the contiguous U.S. - and Afterpay is now available for all orders $50+!
$8 flat rate shipping available for orders shipping to AK / HI / PR.
We currently offer international shipping to Canada only. Shipping rates are calculated by weight + delivery destination.
Read more about our Shipping process here.
PROCESSING
All orders are processed + shipped within 2-3 business days. Please allow for additional processing time around major sales or during holidays.
More information here.
EXCHANGES + RETURNS
If you're not 100% satisfied with one of your P.F. Candle Co. products, we would love to help make that right! Please contact our Customer Care team at hello@pfcandleco.com within 30 days of receiving your order and we'll help get the process started.
More information here.
Customer Reviews
Write a Review
Ask a Question
Bought several in the Sunset series
The form factor of these candles is great - good looking tin with a stylish design and nice lid. Was thinking that the Dusk candle was too masculine at first sniff, but like the other PF candles, it really delivered while the candle was lit. The scent is as its described - balmy heatwaves melding smoke and perfume. I'll be buying the fourth in this series at some point. I haven't bought candles in years because they were usually a costly disappointment. PF Candles are my go to now.
Just okay
I love the tin design and scent, however the scent throw is just way too faint. I'll have the candle burning 1 ft away from me in a relativity small space and have a very hard time noticing any change in scent. It's pretty to look at and I do like the smell when I take a few whiffs before burning, but I expected more of a hot throw when burning.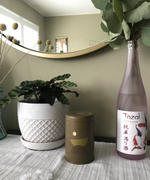 Nice packaging, not much scent
The candle doesn't put off much of a scent but the container is pretty.
Fave scent yet
Moonrise and dusk are the best tins!
Smells great!
This candle has a wonderful scent and is somehow the perfect amount of "throw" for my dining room/living room combo. I love it :)
Lovely
I think this candle smells really nice. It is a little too floral for my taste, but it is still a beautiful candle!! I would have loved for the yuzu notes to come out more.
Like A Soft Evening Breeze
First time buying Moonrise and love the scent but wish it was a little stronger and scent would last longer. Still a welcome addition to all my other P F candles.
Faint scent
Moonrise is such a nice scent when you're smelling the can, but when it's burning I cannot smell it in my room at all. I have gradually moved the candle into smaller and smaller rooms to get a scent payoff. I also have the Goldenhour candle - same thing with that. I normally buy Le Labo Cidre but can't justify the price in this economy - These are the only two PF candles I have, so I'm not sure if the sunset collection is just faint, or if this is the kind of scent payoff you get with $20 candles. I'm still giving it 4 stars because they do visually set a mood, this is probably the perfect product for those who are sensitive to scent (good for guest room), and I can re-use the cute jars.
I'm a Moon guy
I love the moon, I love evenings and a dark sky. This fragrance ENHANCES my love for the evening. It's got a soft aroma, with a bit of sweetness perfect for a bit of de-stressing from work. (even though work is at home). The tin is really cute too and I plan on reusing.
I was really excited for this but...
After reading the ingredients I was really excited to receive this scent but I've had it burning for about two and a half hours now and I can only smell it if I get really close to the candle. My room is small so scents fill up my space pretty easily. I really wish it was stronger because it smelled really good when I took it out of the packaging :(