Moonrise– 3.75 fl oz Reed Diffuser
Sunset Reed Diffuser
SCENT:
12am. Heatwaves, late-night crowds, the lure of the dance floor melding smoke and strange perfumes. Balmy, ambiguous, free. Yuzu, Indian jasmine, and smoked cedarwood.

If you like Moonrise, we think you'd also like creamy Patchouli Sweetgrass or woody Teakwood & Tobacco.
Fragrance Family
Scent Throw
ⓘ
How strong is it?
Great For
Low-maintenance scent throw, all day long - no match necessary.
Sunset reed diffusers feature custom-printed glass vessels donned with earth-toned motifs, sun shapes, and horizon lines inspired by California scenery.

Each Sunset reed diffuser contains 3.75 fl oz of fine fragrance oil and lasts approximately 3-4 months. Bottle measures 2.8125" in height, 2.75" in diameter, and reeds are 7" long.
-Insert rattan reeds directly into bottle and flip weekly or as needed to refresh the scent.
-To create a lighter, more subtle scent throw, insert just a few reeds or remove as needed!
-Keep away from direct sunlight or other heat sources to avoid drying out the reeds.
-Our fragrance oils are not developed for aromatherapy diffusers or humidifiers.
-Do not consume and keep away from children or pets. If the oil spills, clean up immediately, as the oils and resins can cause damage to some finishes.
Our Reed Diffusers contain a blend of naturally-derived and man-made fragrance oils. Each diffuser includes a bundle of naturally-harvested rattan reeds to absorb and slowly release the fragrance throughout your space.
Click here to learn more about the fragrance ingredients used in our Reed Diffusers.
Enjoy FREE SHIPPING on all orders within the contiguous U.S. - and Afterpay is now available for all orders $50+!
$8 flat rate shipping available for orders shipping to AK / HI / PR.
We currently offer international shipping to Canada only. Shipping rates are calculated by weight + delivery destination.
Read more about our Shipping process here.
PROCESSING
All orders are processed + shipped within 2-3 business days. Please allow for additional processing time around major sales or during holidays.
More information here.
EXCHANGES + RETURNS
If you're not 100% satisfied with one of your P.F. Candle Co. products, we would love to help make that right! Please contact our Customer Care team at hello@pfcandleco.com within 30 days of receiving your order and we'll help get the process started.
More information here.
Customer Reviews
Write a Review
Ask a Question
12/22/2021
Anonymous

United States
Scent of Moonrise
It's an alluring fresh scent...almost mischievous
12/17/2021
Anonymous

United States
High quality with depth in aroma
I've been searching for diffusers with more depth in the aroma and I've finally found it! The ones I've bought at Target smell nice at first but seem to only have a few layers of smell which becomes more noticeable after it diffuses throughout the room. This Moonrise is different in that it has a great balance that's not too smoky but not too fruity and the melded spectrum of aroma diffuses nicely in the room. Since there is depth in the aroma, once it diffuses into the air, not one smell is too pungent and the other layers come to life.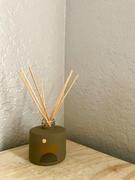 12/17/2021
Anonymous

United States
diffuser purchase
i ordered a Moonrise reed diffuser. It arrived in a timely manner and i absolutely loved the look of the diffuser, and of course, the scent. have never been disappointed in a purchase from p.f. candle. thank you.
12/16/2021
Emily L.

United States
Gorgeous
Really loving this item so far. The packing is a lovely departure from the typical bottles if you need something extra fancy. This is in our guest bath and looks great. The scent is a bit more floral than I typically go for but scents the room nicely without overpowering.
11/19/2021
Angela B.

United States
Love It!!
Not only does it smell amazing, the decanter itself is so beautiful!
11/08/2021
Jillian B.

United States
More Effective than the Candle
I've noticed that the diffuser has a much further scent-throw than the candle of this same scent does. I'm really happy with this purchase.
11/04/2021
Anonymous

United States
Wonderful aroma!
I'll be using it for a long time.
11/04/2021
Anonymous

United States
Wonderful aroma!
I'll be using it for a long time.
11/04/2021
Anonymous

United States
Love PF Candle Co!
Love these reed diffusers. They smell delicious and the design is great
11/03/2021
Amanda S.

United States
Love it
I have it in my office and every time I walk in it smells the perfect amount of noticeable. I can smell that it is a special unique smell but it's not overwhelming. I did only put in two of the reeds instead of all five at once. I plan to add the other to reeds later