Amber & Moss– Car Fragrance 2-Pack
Car Fragrance
SCENT:
A weekend in the mountains, sun gleaming through the canopy. Sage, moss, and lavender.

Sold in pairs: one order includes two Amber & Moss Car Fragrances.
Fragrance Family
Scent Throw
ⓘ
How strong is it?
Great For
Hanging on the rearview mirror and in other small spaces like bathrooms, closets, and more.
P.F. Car Fragrances are inspired by travel nostalgia, our love of road trips, and the power of scent to make anywhere – even the car – feel like home. Meant first for hanging on the rearview mirror, these are also suitable in other small spaces like bathrooms, closets, and more.

To store in small spaces, we suggest snipping off the top of the inside barrier bag while keeping the freshener inside to avoid direct contact with textiles and surfaces.

Each Car Fragrance lasts 3-6 weeks depending on use. Measures 3" by 3" and includes a string for hanging. One order includes two Car Fragrances.
P.F. Car Fragrances were designed first for use in cars, but are suitable for any small space, like closets, offices, bathrooms, and more.
For the strongest scent throw, remove the Car Fragrance from the inside barrier bag, exposing the entire product. For more controlled fragrance, cut along the top of the barrier bag and expose more of the freshener as needed.
For the car: allow your Car Fragrance to hang freely from the string on your car's rearview mirror or on a door handle or hook. Sunlight and heat will reduce fragrance strength faster, so you might hang the freshener on the side of the steering wheel to prolong use, keeping the barrier bag on to avoid direct contact with clothes and interior surfaces.
For small spaces: we suggest snipping off the top of the inside barrier bag while keeping the freshener inside to avoid direct contact with textiles and surfaces.
Avoid direct contact with surfaces and be sure to keep out of reach of children and pets.
Made with paper board, fine fragrance oils, and our signature kraft packaging. Phthalate and paraben-free.
Click here to learn more about the fragrance ingredients used in our Car Fragrances.
Enjoy FREE SHIPPING on all orders within the contiguous U.S. - and Afterpay is now available for all orders $50+!
$8 flat rate shipping available for orders shipping to AK / HI / PR.
We currently offer international shipping to Canada only. Shipping rates are calculated by weight + delivery destination.
Read more about our Shipping process here.
HOLIDAY SHIPPING
Place your order by the following dates to ensure on time arrival ahead of the holidays:
Canada
: Friday, 12/10 by 12pm PST
Domestic US Shipping:
East Coast: Monday, 12/13 by 12pm PST
West Coast: Thursday, 12/16 by 12pm PST
Express / 2-day: Friday, 12/17 by 12pm PST
PROCESSING
All orders are processed + shipped within 3-5 business days. Please allow for additional processing time around major sales or during holidays.
More information here.
EXCHANGES + RETURNS
If you're not 100% satisfied with one of your P.F. Candle Co. products, we would love to help make that right! Please contact our Customer Care team at hello@pfcandleco.com within 30 days of receiving your order and we'll help get the process started.
More information here.
Customer Reviews
Write a Review
Ask a Question
11/04/2021
Gregory S.

United States
Waiting for a restock
The scent I was familiar w/ was out of stock. Took a chance on a new one that unfortunately I didn't find agreeable. Customer service was excellent and will be placing an order once the initial intended is back in stock. Thanks!
Great scent!
Everyone in my family enjoys this scent. It is not overwhelming like so many car fresheners.
Might be my favorite PF scent
I have Amber & Moss as a candle & car freshener. I bought the linen spray and find myself using it as a perfume as well as home frangrance. Swell is the other scent I buy as much as the Amber & Moss.
Fresh and Clean Smell That Last!
The smell of this is incredible. It just makes you feel relaxed the minute you smell it. This is my favorite PF scent.
Amber & Moss, a love affair
I don't know about you but scents lift me into a different time and place. Scent memories are very strong for me and when I use Amber & Moss (candles, room spray, reed diffuser) it just lifts my spirit so high and takes me out of the drudgery of a normal day. It's sweet, earthy scent brings me so much joy and takes me away. Do yourself a favor and try it out.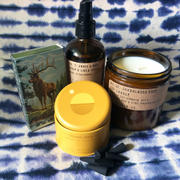 Did not hold the scent
Would have liked it more if the scent lasted longer than a few days
Car Freshner
To be honest I was very excited about this. But it did not meet my expectations. I have a HONDA CRV and I barely smelt it at all. Too much money for what it is. I love the idea, just not the execution. Thank you anyway. Marie Meaney
Amazing car freshener
I've always love the Amber & Moss scent so when I saw they had it in a car freshener I knew I had to have it! It's not overly powerful but still packs a punch every time you get into your car. Would make a great stocking stuffer this holiday season!