Golden Hour– 3.75 fl oz Reed Diffuser
Sunset Reed Diffuser
SCENT:
5pm. Rustling grasses, baked earth, sun rays split between trees. Mellow, dry, tranquil. Bergamot, hay, and golden poppy.

If you like Golden Hour, we think you'd also like warm Piñon or dry Sunbloom.
Fragrance Family
Scent Throw
ⓘ
How strong is it?
Great For
Low-maintenance scent throw, all day long - no match necessary.
Sunset reed diffusers feature custom-printed glass vessels donned with earth-toned motifs, sun shapes, and horizon lines inspired by California scenery.

Each Sunset reed diffuser contains 3.75 fl oz of fine fragrance oil and lasts approximately 3-4 months. Bottle measures 2.8125" in height, 2.75" in diameter, and reeds are 7" long.
-Insert rattan reeds directly into bottle and flip weekly or as needed to refresh the scent.
-To create a lighter, more subtle scent throw, insert just a few reeds or remove as needed!
-Keep away from direct sunlight or other heat sources to avoid drying out the reeds.
-Our fragrance oils are not developed for aromatherapy diffusers or humidifiers.
-Do not consume and keep away from children or pets. If the oil spills, clean up immediately, as the oils and resins can cause damage to some finishes.
Our Reed Diffusers contain a blend of naturally-derived and man-made fragrance oils. Each diffuser includes a bundle of naturally-harvested rattan reeds to absorb and slowly release the fragrance throughout your space.
Click here to learn more about the fragrance ingredients used in our Reed Diffusers.
Enjoy FREE SHIPPING on all orders within the contiguous U.S. - and Afterpay is now available for all orders $50+!
$8 flat rate shipping available for orders shipping to AK / HI / PR.
We currently offer international shipping to Canada only. Shipping rates are calculated by weight + delivery destination.
Read more about our Shipping process here.
HOLIDAY SHIPPING
Place your order by the following dates to ensure on time arrival ahead of the holidays:
Canada
: Friday, 12/10 by 12pm PST
Domestic US Shipping:
East Coast: Monday, 12/13 by 12pm PST
West Coast: Thursday, 12/16 by 12pm PST
Express / 2-day: Friday, 12/17 by 12pm PST
PROCESSING
All orders are processed + shipped within 3-5 business days. Please allow for additional processing time around major sales or during holidays.
More information here.
EXCHANGES + RETURNS
If you're not 100% satisfied with one of your P.F. Candle Co. products, we would love to help make that right! Please contact our Customer Care team at hello@pfcandleco.com within 30 days of receiving your order and we'll help get the process started.
More information here.
Customer Reviews
Write a Review
Ask a Question
Smells great!
Nice fragrance, very classy looking!
Not my favorite scent
I'm a big fan of P.F. Candle diffusers, but this scent wasn't my favorite. I only gave it 4 stars due to the scent alone. I don't know how to describe it, but there's an overpowering note- it's lazy, mellow, and earthy- in the scent that isn't my cup of tea. Golden Hour is an overall subtle scent so at least it's not overpowering, but that one note is really unappealing to me. Besides that, it's the same high quality I'd expect from PF Candle. I recommend this scent if the product description appeals to you or if this is listed as a recommended scent based on another scent you like. I find their recommendations pretty spot on, but I thought I should try something new. If there's a store near you with PF Candle items, I recommend smelling them in person first! For reference: My favorite scents are Amber & Moss, Swell, Los Angeles, and Golden Coast.
Absolutely love everything from PF Candle
I can't get enough... even bought another to put in my office at work!
I'm loving the "Golden hour Line".
Can't get enough of the linen and room spray, candles and reeds. As always was pleased with quick delivery
Golden Hour Diffuser
Not too strong, not too weak, just right. I love walking into my living room and getting a light sent that's fresh and warm. Probably one of the best smelling products I've ever encountered.
Great scent just not strong
Great smell just wasn't strong enough.
03/23/2021
P.F. Candle Co.
Hey Dan! Thank you so much for your review. We're sorry you're not 100% in love with your Reed Diffuser. Please email us at hello@pfcandleco.com and we would love to help you out!
Beautiful design, very very subtle scent.
:)
Quality issues
Love the look and scent, but after less than a week of use the paint peeled off the top of the diffuser; super disappointed as I'd hoped to keep and refill in the future. Given the price point I expected quality to be higher.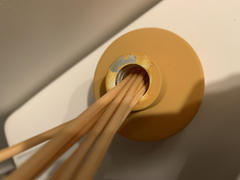 02/10/2021
P.F. Candle Co.
Hi Cricket! We totally get how unsightly this is and would recommend removing the plastic cap so that the diffuser's displayed with the glass neck instead, like you see here https://pfcandleco.com/collections/sunset-diffusers. This was a part of our original design at launch and has since been updated. Feel free to email hello@pfcandleco.com and we can help you out!
Just okay
Doesn't give off much scent.
Great title but not my favorite scent
Love the PF Scents! This one is not my favorite and the diffuser is not very strong.