Black Fig– 7.2 oz Soy Candle
Standard Candle
SCENT:
Backyard fruit trees, something baking in the oven. A little spicy and just sweet enough. Evergreen, mission fig, and spice.

If you like Black Fig, we think you'd also like fresh Amber & Moss or spicy Dusk.
Fragrance Family
Scent Throw
ⓘ
How strong is it?
Great For
Basically everywhere. Our most popular size!
Our 7.2 oz Standard Candles are hand-poured into apothecary inspired amber jars with our signature kraft label and a brass lid. This is our most popular size and is meant for dressers, countertops, nightstands – basically everywhere.

Burns for 40-50 hours. 2.9" in diameter and 3.5" in height.
P.F. scents are meant to enhance a space rather than overpower it, and are especially ideal for people with scent sensitivities. If you prefer a stronger scent throw, we suggest pairing your candle with another product from our line - use Incense or Linen & Room Sprays to quickly fragrance your space, or place a Reed Diffuser in the room for low-maintenance scent throw all day long.
Following Candle Care helps to ensure product quality + longevity. We highly recommend following each of the following steps:
Trim your candle's wick to 1/4" before each lighting or once your candle has cooled.
Never attempt to trim a burning candle.
Discard the snipped portion in the trash; never leave wick trimmings in your candle jar.
The wick should always remain centered and away from the sides of the vessel.
Allow the wax to melt to the edges of the jar during each burn to prevent tunneling.
Once the candle's gone, we hope you'll re-use it. Clean it out and you've got a new planter or pencil holder – or whatever you want! Click here for tips on reusing your empties.
Safety first - because candles contain a small flame, we encourage following these common sense rules of thumb:
Never leave a candle burning unattended, near a draft, or in reach of children or pets.
Don't burn your candle for more than 4 hours at a time.
Do not allow your wick to curl over, as this can create a larger than normal flame.
Stop burning your candle when only 1/4" of wax remains.
Do not pick up a burning candle or immediately after it's been blown out.
Protect the surface underneath the candle no matter the material.
Our candles are simple: they're all made with 100% domestically-grown soy wax, fine fragrance oils, and cotton-core wicks. The fragrances we use are paraben-free, phthalate-free, and are never (ever) tested on animals.
Enjoy FREE SHIPPING on all orders within the contiguous U.S. - and Afterpay is now available for all orders $50+!
$8 flat rate shipping available for orders shipping to AK / HI / PR.
We currently offer international shipping to Canada only. Shipping rates are calculated by weight + delivery destination.
Read more about our Shipping process here.
HOLIDAY SHIPPING
Place your order by the following dates to ensure on time arrival ahead of the holidays:
Canada
: Friday, 12/10 by 12pm PST
Domestic US Shipping:
East Coast: Monday, 12/13 by 12pm PST
West Coast: Thursday, 12/16 by 12pm PST
Express / 2-day: Friday, 12/17 by 12pm PST
PROCESSING
All orders are processed + shipped within 3-5 business days. Please allow for additional processing time around major sales or during holidays.
More information here.
EXCHANGES + RETURNS
If you're not 100% satisfied with one of your P.F. Candle Co. products, we would love to help make that right! Please contact our Customer Care team at hello@pfcandleco.com within 30 days of receiving your order and we'll help get the process started.
More information here.
Customer Reviews
Write a Review
Ask a Question
11/03/2021
Marc G.

Canada
Fave. Fave. Fave.
Favourite candle. Helps me create the perfect zen space in my home!
Love Black Fig!
I thought Grapefruit was my favorite but now I think it's Black Fig. The aroma finds its way throughout the room. Such a great scent to have during this beautiful autumn season. Merci beaucoup!
10/11/2021
P.F. Candle Co.
Hey Carmen, thanks for leaving your feedback with us! I'm actually burning Black Fig right now! Best, P.F. Customer Care Team
All the smells
Nice smell. Would have liked it to be stronger in scent though
Fig, glorious fig!
I haven't met a scent from P.F. Candle I haven't loved and fig does not disappoint. I recently created a reading nook and can't wait to burn fig in the fall with a great book, cozy blanket, and warm beverage. Every scent makes me happy and creates a different mood - so uplifting and necessary right now.
My first favorite...
I love the deep earthy scent. I have a "Fig" tree growing in a big pot on my back patio near my Studio door, I love it and the fruit that it produces. The leaves on the tree have an earthy deep scent also when they are dry and you crumble in your hands- Beth R.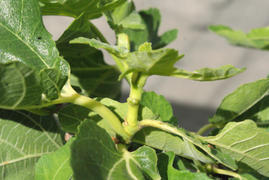 06/07/2021
P.F. Candle Co.
thank you for sharing with us a photo of your fig tree! Happy you're enjoying Black Fig :)
AMAZING!
in LOVE with this smell! About to order 20 more. If you are a fan of Amber and Moss, get this one immediately. Such a soothing scent.
Black Fig Candles ROCK!
Simply my favorite of all times - I won't burn anything else! Wonderful, clean, earthy scent, not perfume-y and does not bother my overly chemically-sensitive nose. I LOVE LOVE LOVE IT!
It's just ok
I bought a bunch of different scents and have to say that black fig and pinon were less compelling and unique than the other pf fragranced candles received. Similarly, both ended up striking me as holiday type fragrances, with the black fig being very reminiscent of spiced oranges with a black pepper afternote. Neither of these scents is repugnant, to be clear, but unlike the other pf fragrance offerings, I don't think i would seek them out again.
Wonderful
If you are a fan of Amber & Moss or Teakwood Tobacco then jump aboard because Black Fig is just as spectacular!
Love it
My grandparents lived in Santa Barbara CA and somehow this candle reminds me of my visits there. Complex and unusual scent.